Anthony 5"x12" & 6"x14" Pilot Three Roll Mills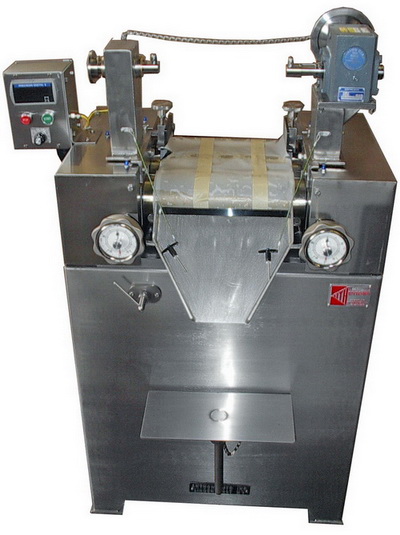 Standard

Stainless Steel Frame

Quiet Timing Belt Drive

Mixing Endplates

Four (4) Point Adjustment

Cast Iron Water Cooled Rolls

Full ANSI 2007 Compliance
Optional

Manual Roll Set with Digital Pressure Indicators

Electrohydraulic Roll Set with Mechanical Gapping

Automatic Roll Temperature Control System

Stainless Steel, Ceramic Coated, or Fully Ceramic Rolls

ISO Computerized Control Packages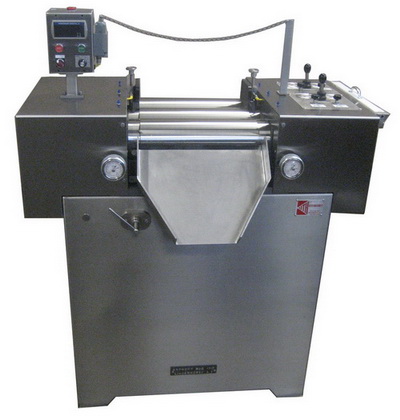 Features:
Rolls - The rolls are either 5" diameter by 12" long (or 6"x16") on the grinding surface. The inside of the roll is machined concentric to the roll surface to insure uniform cooling and material transfer. Standard rolls are constructed cast iron. Stainless steel rolls, ceramic coated rolls, or fully ceramic rolls are options.
Cooling - All three rolls are water cooled with individual valves to control the flow of water. Thermometers installed in the waterbox or an automatic temperature control system are options.
Adjustment - The mill has four (4) point adjustment which can be either manual, manual-hydraulic or electrohydraulic roll set. The electrohydraulic system offers the "quick release" feature
which allows the rolls to be opened and closed, without resetting the roll pressure knobs. Electrohydraulic roll set is normally supplied with a mechanical gapping system.
Safety feature - This mill is equipped with a safety system that is designed to "fail" if any foreign object passes through the rolls. This minimizes damage to the rolls and other component parts of the mill. The manual and manual-hydraulic roll set units have shear pins. The electrohydraulic system has an overpressure dump system.
Base - The base of the mill is fabricated from stainless steel. This design makes for an excellent appearance and very easy cleanup.
Apron - The apron is constructed of stainless steel. Positive tension of the knife against the takeoff roll is maintained by a weight located inside the pedestal cabinet. The tension is adjustable. By turning the apron lever, the tension on the apron is released and the apron can be removed for cleaning. The apron knife can be removed without the use of tools, and it is constructed of spring steel with a single bevel.
Endplates - This mill can be supplied with two (2) types of endplate systems. The first system utilizes endplates that ride on the roll journals, allowing for "mixing" on the rear two rolls. The second system utilizes endplates that ride on the "flat of the roll". In both systems, the endplates are easily removed for cleanup. Endplates are constructed of bronze with various plastic materials as an option.
Gears - The machine is supplied with spiral cut cast iron gear and steel pinions. This gear train has been designed for smooth and quiet operation.
Bearings - The mill has antifriction roller bearings fitted in self-aligning roll boxes.
Motor & drive – The rolls are driven by a TEFC inverter duty motor (2HP for 5x12 and 5HP for 6x16) through a quiet timing belt drive.