Three Roll Mills Safety
ANSI B65/NAPIM 177.1-2007
The ANSI safety regulations for three roll mills were extensively revised in 2007. KMC refers to these regulations as ANSI 2007, and they require that all three roll mills purchased for use in the USA (after January 1, 2008) must be fully ANSI 2007 compliant. To be fully ANSI 2007 compliant the three roll mill must have a WASHOUT MODE (A very slow speed used when cleaning the rolls), EMERGENCY BRAKING, NGSIS (Nip guard safety interlock system that monitors mill functions to insure that when the rolls are being cleaned, the WASHUP STICK (in-running nip point guard) is in the feed nip, and the mill is in WASHUP MODE), and a feed roll safety cable assembly (required for production size three roll mills). ANSI 2007 grants GRANDFATHER STATUS to three roll mills that were in operation prior to January 1, 2008. Basically, these grandfathered three roll mills are legal to run, so long as they are fully ANSI 1997 compliant, with the addition of a feed roll safety cable. These grandfathered three roll mills must be brought into full ANSI 2007 compliance prior to January 1, 2020.
Of course, all three roll mills that KMC supplies are fully ANSI 2007 compliant. The following photos show the KMC standard fully ANSI 2007 electrical package installed on a new Anthony MKII 6"x8" three roll mill, installed on a used (remanufactured) 4"x8" three roll mill, installed on used (remanufactured) 6"x14" three roll mill, and installed on a used (remanufactured) 10"x22" three roll mill. As can been seen in these photos, typically attaches the main electrical box to the mill frame (motor side), with everything pre-wired from there. Electrical hook up is then just a matter of bringing power to the main electrical box.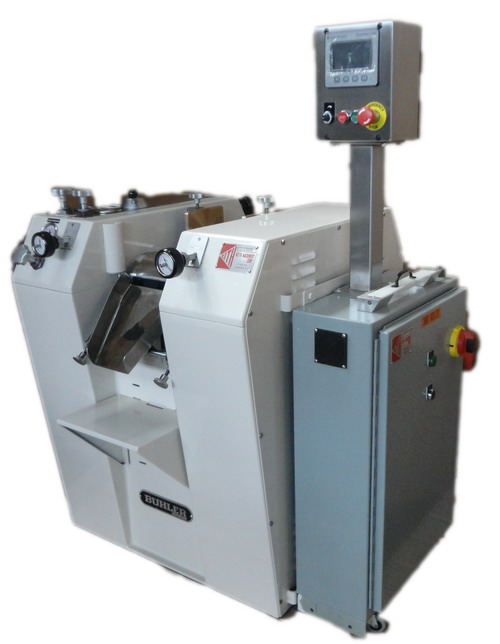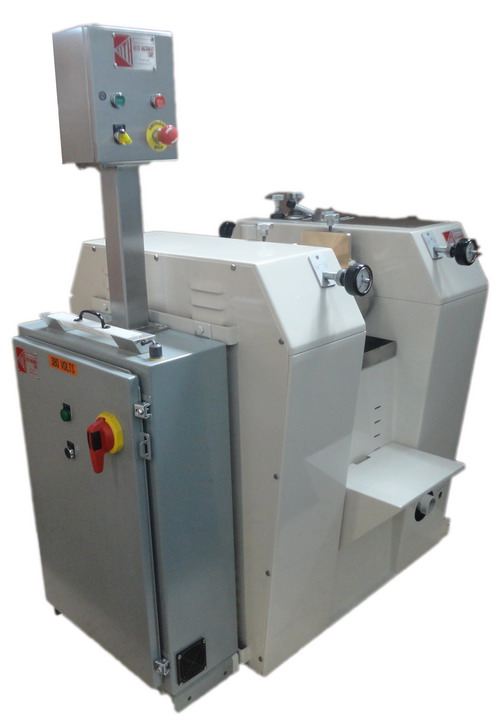 KMC OPERATION / SAFETY CLASSES FOR THREE ROLL MILLS
KMC believes that the most important single item that a company can do to avoid accidents, is to provide regular training classes. Operators need to be constantly reminded that a Three Roll Mill can "bite" them.
A KMC instructor can visit your facility once each year to conduct such a training class. The class would also cover good operating procedures, as well as all safety items. Normally, this is not just a classroom exercise. The instructor brings the class out onto the mill floor, beginning with a "clean/cold" mill, running the customer's product, and then demonstrating how to clean the mill at the end of the run. (Note: This cleaning procedure will be according to ANSI 2007). Finally, KMC can issue a certificate to all operators who attend the class.
KMC believes that using an outside contractor to run these classes, adds to their importance in the mill operator's mind. KMC also recommends conducting a safety class at least once each quarter, with three of the classes/discussions being done in house.
Finally, mill safety is something that KMC is fully committed to. KMC knows about Three Roll Mills from the ground up, and it's goal is to eliminate mill accidents. KMC charges an hourly rate (please inquire for our current rate). What follows is the outline that the KMC instructor will follow during his class.
OUTLINE FOR KMC OPERATIONS / SAFETY CLASS
1) General discussion of Three Roll Mill Safety
A. What do the ANSI safety regulations require (ANSI B65/NAPIM 177.1-2007)
B. Discussion of the 2 main dangers
1. Cleaning the feed roll and the in running (rear) nip
2. The apron knife
3. Using the electrical prewire system to enhance safety
4. Use of the "E" stop buttons
2) Set up of a clean mill, prior to running
A. General lubrication... When to lubricate, how often to lubricate, where to lubricate, what grease and oil to use
B. Check that the 2 oil level indicators show correct oil level in gear reservoirs
C. Check that cooling water is off
1. Discussion on water solenoid valve
D. Check of apron
1. Condition of slot for apron knife
2. Installation of new knife
3. How to check condition of used knife
4. Alignment of apron on apron roll
E. Condition, alignment and tension of silent chain drive. Discussion of timing belt replacement
F. Condition and positioning of endplates
3) Mill start up, Balancing and Heating Phase
A. Step by step discussion of how to properly start up and mill
1. Use of low speed
2. Correct procedure to close rear nip and the addition of product to be milled
3. Correct procedure to balance the mill
4. When to bring on cooling water and discussion of water cooling system
B. When to put mill into high speed
1. What to expect from the low speed to high speed transition
2. How to "read" the flow of ink off the apron
4) Running Phase
A. The end plate check and migration tendencies
B. The apron check and knife end considerations
C. Wetting out of a product. When are multiple passes called for. What to do about "leave back" or "tailings" in rear nip.
D. At what point should the mill be stopped? Discussion of running dry and "tearing" the rolls
5) Cleaning Phase
A. Use of the emergency stop button (electrical lockout/sort of)
B. Step by step procedure for cleaning the mill
1. The correct "order of cleaning"
2. Cleaning the feed roll. Discussion of the "wash up stick" or "nip point guard". Discussion of the "rear roll safety bar".
a. Correct cleaning procedure
b. Enactment of the most common accident known as "saving the cleaning rag". How to avoid this.
3. When to disengage the apron from the apron roll. How to do this correctly.
a. How to clean the apron knife. Do you really want to clean the apron knife. A discussion.
b. Discussion of apron knife guards and other procedures
c. Correct cleaning procedures for the apron, itself.
4. Cleaning the apron and center rolls
5. Cleaning the endplates
6. Re setting the mill for the next batch
6) Discussion of General Mill Theory/ "Operation of the mill as loose as possible, consistent with the product desired". What does this mean, practically.
7) Systems that can be added to Three Roll Mill
A. Safety Systems
1. The "wash-up mode"/ Increased reaction time in the cleaning phase (required by ANSI 2007)
2. Emergency braking (required by ANSI 2007)
3. NGSIS (Nip Guard Safety Interlock System (required by ANSI 2007)
4. Manual wash-up system, with true electric power lock off
5. Knee safety trip wire (feed side)
6. Overhead safety trip wire (or wire around top of mill)
B. Product Repeatability Systems
1. Electro-hydraulic roll pressure system
2. Mechanical gapping system
3. Electro-hydraulic apron knife pressure system
4. Automatic roll temperature control system
5. Roll speed control (the VFD)
C. Mill Feeding Controls
1. Product level sensing device for rear nip
2. Can tilter
3. Feed Pumps
4. Press out units
8) Review of Safety Items
9) Question and Answer Period
10) Written test (Optional)
11) Issuing of Certificates