Anthony MKII 6"X8', 6"X12", 6"X16", 9"X24", 13"X32", & 16"X40" Three Roll Mills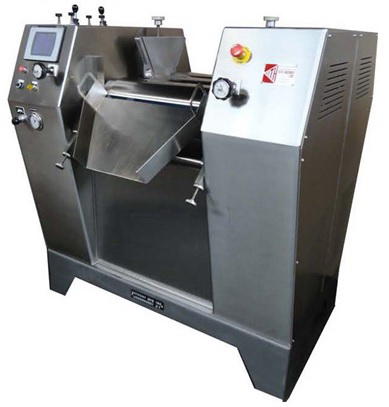 All Anthony mills are standard with a stainless steel frame, an endplate system that allows for mixing in the rear nip, and a quiet timing belt drive. Photos show a 9" x 24" mill with electro-hydraulic roll set, electro-hydraulic apron set, and automatic roll temperature control system.
All Anthony production mills are fully compliant with ANSI B177.1-2007, and standard features include inverter duty motors, variable roll speed, WASHUP MODE, EMERGENCY BRAKING, NGSIS (Nip Guard Safety Interlock System), feed roll safety bar and feed roll safety cable.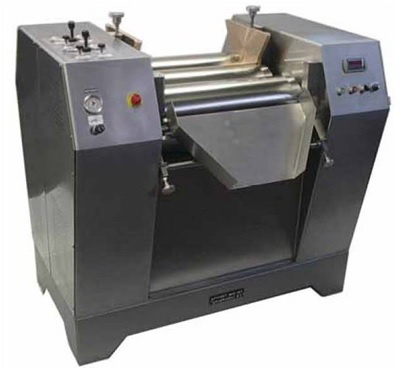 Features:
ROLLS - Standard rolls are bi-metallic centrifugally chilled cast iron, with stainless steel rolls as an option. The rolls are made in three pieces, with two roll ends, and a roll body. The interior of the roll body is machined concentric to the roll surface to insure uniform cooling and material transfer. Roll sizes are 6" diameter x 8" long, 6"x12", 6"x16", 9"x24", 13"x32", or 16"x40".
COOLING - All three rolls are water cooled with individual valves to control the flow of water. Almost all mills are supplied with automatic roll temperature control.
ADJUSTMENTS - The mill has four (4) point adjustment electro-hydraulic roll set. The electro-hydraulic system offers the "quick release" feature which allows the rolls to be opened and closed, without resetting the roll pressure knobs. This means that the rolls can be opened for cleaning and then closed again, duplicating the previous setting. A mechanical gapping system is standard.
SAFETY FEATURE - This mill is equipped with a safety system that is designed to "fail" if any foreign object passes through the rolls. This minimizes damage to the rolls and other component parts of the mill.
FRAME - The mill frame, shoulders and side covers are constructed from stainless steel. This design makes for an excellent appearance and very easy cleanup. Larger mills sit on a steel base, which is designed to be forkliftable. The height of this base can be specified from 4" to 16".
APRON - The apron is constructed of stainless steel. Positive tension of the knife against the take off roll is maintained by a two point hydraulic system. The knife pressure is easily adjusted using the hydraulic system, so that repeatability from batch to batch is insured. The apron system also includes a device which insures that the knife comes slightly away from the apron roll whenever knife pressure is not required. The knife is held into the apron blade holder via a backing plate, allowing for very easy knife removal and slot cleanup. The standard knife is constructed of spring steel with a single bevel.
ENDPLATES - This mill can be supplied with two types of endplate systems. The first system utilizes endplates that ride on the roll journals, allowing for "mixing" in the rear nip. The second system utilizes endplates that ride on the "flat of the roll". In both systems, the endplates are easily removed for cleanup.
GEARS - Gears are made of an advanced highly engineered plastic, and the smaller pinion gears are made of steel. This combination requires minimal lubrication with grease.
BEARINGS - The mill has anti-friction roller bearings fitted in self-aligning roll boxes.
MOTOR & DRIVE - The rolls are driven through a quiet timing belt drive by TEFC inverter duty motor, with explosion proof motor as an option.
ELECTRICAL PACKAGE - Is fully ANSI B177.1-2007 compliant with color touch screen HMI. Remote monitoring and data collection is an option. An explosion proof electrical package is an option.